Panel Discussion Series
'Getting Comfortable Being Uncomfortable'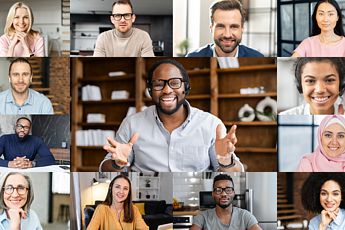 Last year was a year like no other presenting many challenges as well as opportunities. We have pushed in new ways, established new norms, and continue to build resilience. As a result, I felt the need to create this series. During challenging times, I believe it's important to stay connected, share stories, be a resource to one another, give back and enhance our networks. No power points or formal presentations, but an opportunity to hear personal stories of growth, inspiration and learning, share best practices and spark dialogue on important topics.
With that purpose in mind, I am continuing this series on a quarterly basis and invite you to join me in a virtual discussion with several accomplished leaders. You can view the recordings from last year's panel discussions here.
Please register here for my next panel discussion:
LANDING AND STARTING A NEW JOB VIRTUALLY - March 9, 2021, 8:00 - 9:00 AM
Personal stories, lessons learned and effective strategies for searching and on-boarding in a new job virtually, with a panel of distinguished leaders:
Alison Blackburn
Director, Human Resources Business Partner at Tufts Health Plan
Elaine Chen
Cummings Family Professor of the Practice in Entrepreneurship and Director, Tufts Entrepreneurship Center
Kate Cox
Senior Director of Client Relations at Bright Horizons
Deniz Razon
Chief Business Officer at Servier Pharmaceuticals
Our 2020 events
What people said about EMOTIONAL INTELLIGENCE in December:
"Thank you for a wonderful program and impressive panel - love hearing the message about the value of positivity and optimism; and the wisdom of stopping to think before speaking, particularly in a difficult situation."

"Thank you so much for sharing and leading this amazing panel on emotional intelligence. It was so insightful and inspiring especially reinforcing the power of gratitude, one of the silver linings of this year!"
What people said about PERSONAL BRANDING in November:
"Thank you for the sharing and inspiration for us to strengthen our personal brands. Being authentic and being comfortable with being uncomfortable!"

"What a wonderfully honest, inspiring conversation, Rita! Thanks for putting together such a great panel."
What people said about RACIAL EQUITY in October:
"You have all inspired me- great content and thoughts!"

"Thank you - grateful to have joined. Amazing hour!"
What people said about RESILIENCE DURING COVID-19 in September:
"What a wonderful way to start the day - with words of wisdom and encouragement. Thank you Rita and panelists!"

"Thank you panelists for all the positivity, optimism, and motivation you've shared this morning!"
Scroll down to watch the videos from completed events, or go to our event video page.
Videos from completed events
RESILIENCE DURING COVID-19
September 2020
RACIAL EQUITY
October 2020
PERSONAL BRANDING
November 2020
EMOTIONAL INTELLIGENCE
December, 2020