Personal Branding and Marketing Yourself
When We Hear the Term "Marketing,"
We Likely Think of Products, Services & Commodities.
HOW ABOUT OURSELVES?
Whether you are seeking a new position, changing roles within an organization, or taking charge of your career planning, marketing yourself is the best way to seize these opportunities.
Yet few of us are ready and able to talk about our talents, accomplishments, and the value we have to offer. In this engaging, timely, and informative book, acclaimed career and executive coach, trainer, and consultant Rita Balian Allen makes the case for personal branding as an essential ingredient for a successful career.
For Rita and the many people who have sought her guidance, the Three Ps Marketing Technique has been the key:
Preparation
Identify & Define Your Brand
Packaging
Create & Build Your Brand
Presentation
Enhance & Articulate Your Brand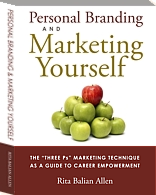 Personal Branding
and
Marketing Yourself
by Rita Balian Allen
This book is available
on Amazon and Barnes & Noble.


Rita discusses her book
with Mike Mullaney
IT'S TIME TO FIND OUT WHAT MAKES YOU, YOU.
Complete with worksheets, checklists, and proven advice, Personal Branding and Marketing Yourself is a powerful toolkit for developing the ease, confidence, and comfort to learn about, maintain, and communicate our best professional selves.
What people are saying about this book:
"Professional presence is a key trait for those who succeed in organizations, yet one that is very difficult to define and to mentor. In her new book, Rita Allen, with her years of excellent coaching for executives, has provided an extremely helpful resource to guide all who want to improve their stature and their ability to navigate the unspoken necessities of building a strong personal brand."
Debra Kennedy
Director, Executive Education
Bentley University
"Learn the secrets to taking charge of your career! This book is full of practical tips, advice and tools for any stage of your career and provides guidance so you can get started today!"
Carol O'Donnell,
Former VP of Human Resources
New Balance Athletic Shoe Inc.
"Every page of this book is filled with tips and techniques for taking control of your career. It helps to put it all together in a way that is practical and easy to follow while keeping you engaged through real stories."
Deborah Varao-Martin,
Sr. Director, Talent Development
Blue Cross Blue Shield of MA