Monthly Discussion Series
'Getting Comfortable Being Uncomfortable'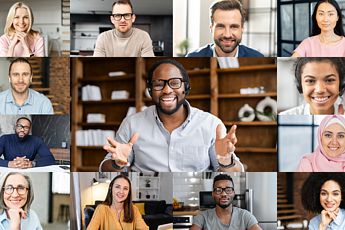 It has been a year like no other as we continue to live through a period of history that we will be talking about for many years. We have experienced a range of challenges, yet have also been inspired in unexpected ways. There have been opportunities because of these challenges and many stories of growth and potential as a result of new norms, new practices and new ways of working. The resilience illustrated in these stories are promising. Building our resilience helps us to endure as we continue to work through these challenges as well as to be there for others who need our support. With that purpose in mind, I invite you to attend and register for one or all of the following virtual discussion series I will moderate to explore a variety of topics with several accomplished leaders.
You can register for one or all events.
What people said about RESILIENCE DURING COVID-19 in September.
"What a wonderful way to start the day - with words of wisdom and encouragement. Thank you Rita and panelists!"

"Thank you panelists for all the positivity, optimism, and motivation you've shared this morning!"
Scroll down to watch the videos from completed events, or go to our event video page.
RACIAL EQUITY - October 27, 2020 8:00 - 9:00 AM
Opportunities for building awareness of biases and unlearning established behaviors with a panel of highly respected experts:
Romina Bongiovanni
Head of Global Communications at New Balance
Juliette Mayers
President and CEO of Inspiration Zone LLC
Ann Moritz
Principal of Moritz Advisory Group
Shilpa Pherwani
CEO and Principal of IBIS Consulting
PERSONAL BRANDING - November 17, 2020 8:00 - 9:00 AM
Stay true to self and enhance personal brand in a virtual world with a panel of esteemed leaders across a variety of career journeys:
Jillian T. Allen, RD
RDN Research Fellow, United States Army and Whole Balanced Nutrition
Patricia Cotter, Ed.D
Executive Director at MIT's Martin Trust Center for Entrepreneurship
Debbie Gustafson
CEO at Energetiq
Nicole Stern
VP of Design at EverQuote
EMOTIONAL INTELLIGENCE - December 15, 2020 8:00 - 9:00 AM
Build awareness of triggers, practice self-care, compassion and empathy during challenging times with a panel of influential leaders:
Derek Depelteau
Global Head of Study Management at Merck KGaA
Gillian Meek
Former President at KEDS USA
Valerie Murray
Head of HR, Enterprise Cybersecurity and Cloud Computing at Fidelity Investments
Chelse Prejean
Process Safety Manager at Cabot Corporation
Videos from completed events
RESILIENCE DURING COVID-19
September 29, 2020 8:00 - 9:00 AM